Peak Interiors and Maintenance
Complete new builds, total refurbishment or minor alterations.
No project too big or too small.
Having had over 30 years of providing and installing office environments both large and small, Peak Interiors can offer the help and assurance to create your office spaces to your requirements. From complete new builds, total refurbishment or minor alterations. Please contact Pat for a site visit or a chat about your current needs. Throughout any project you will have only one point of contact.
Suspended Ceilings and Lighting
We can offer to supply and install a wide variety of suspended ceilings, with a wide choice of grid layouts and tile patterns. We have over 30 years' experience in ceiling installation, working with such brands as Armstrong, Rokfon, Donn, Burgess and most other manufactures of suspended ceiling.
Also we can create ceilings with the MF system. This product is constructed with a plasterboard finish, and would generally be decorated to the colour of your choice.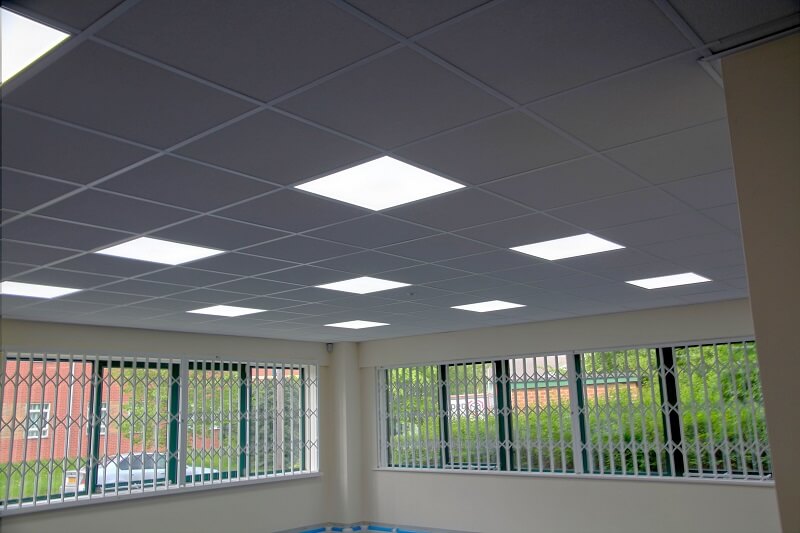 These types of products are basic requirement for most office environments, from fire rated ceilings to sound attenuation ceilings and moisture resistant ceilings. We install these into any size of room, hall or industrial premises.
Installing suspended ceilings to lower an existing high ceiling void or to cover an unsightly existing ceiling void can bring a brighter feel to any room. Insulation can also be added to a suspended ceiling to give better heat retention in cold months, and more efficient air conditioning in the warmer months.
Peak Interiors can supply and install a wide choice of lighting systems as part of our services, all electrical works are carried out by our fully qualified electrical engineer partner.
Get a quote for your project
We can supply and install dry lining to any block or brickwork internal or external walls, using galvanized steel framework or dot and dab. We also offer a tape and jointing / plastering service to prepare the walls for decor.
With over 30 years of installation experience, Peak Interiors can offer to supply a wide variety of partition systems.
Glass partitions.
The frameless glass systems provide a stylish open feel to your office space, with glass doors and a selection of door furniture including sprung door closers.
All glass partitions require manifestation, this can be done in any design from simple dots through to company logos. Please call Pat at Peak Interiors for a site visit and survey.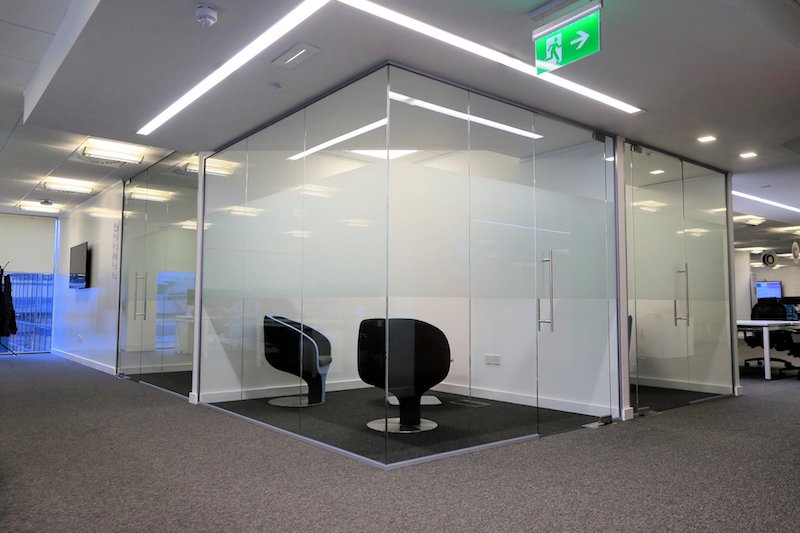 Framed glass partitions.
Non fire rated 50mm systems.
Often used to create office spaces where there is no fire protection requirement, also used to create office space within a limited budget.
This system can include solid modules, doors, windows both single and double glazed and integral blinds.
75 and 100mm systems.
This system of partitions also can be installed with a mixture of solid / glass modules with a selection of veneered doors and furniture.
Again these systems can be single or double glazed with integral blinds. Also 30 minute fire rating can be achieved where required. Insulation can be included within the walls for better sound attenuation.
All our new partition walls can be decorated with washable vinyl's or be painted to your colour of choice.
All aluminium components can be powder coated to any BS/RAL colour of your choice, to match any existing colour scheme.
Get a quote for your project
Often used to form temporary open areas, halls, meeting rooms, extended restaurant areas etc.
These products come in a wide variety of specifications and colour finishes. We can supply and install top hung or floor supported walls and doors to suit your requirements.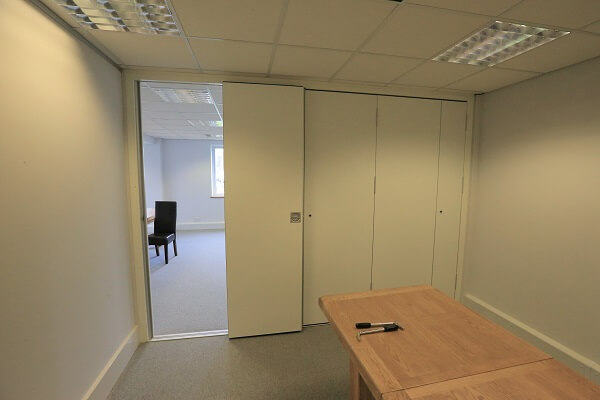 Alongside our interior works we can supply all electric requirements with our certified contract partner.
We can supply and install from a wide variety of floor coverings, carpet tiles, safety vinyl's and heavy-duty floor coverings.
We Can't Wait to Make Your Ideas a Reality
Peak Interiors and Maintenance offer services for South Yorkshire, Nottinghamshire, Derbyshire and Lincolnshire among others. And, although we are based in Sheffield, we've worked with businesses from all over the UK, so don't let that stop you getting in touch!